Wellness Rooms Are A Place Designers Create For Homeowners To Escape It All All
4 min read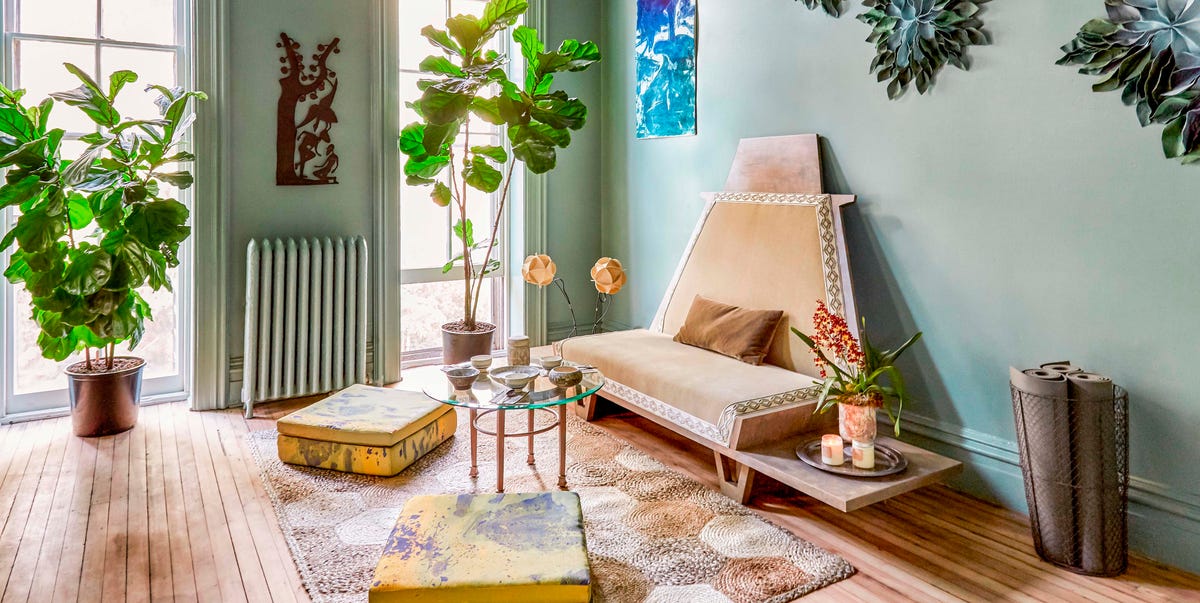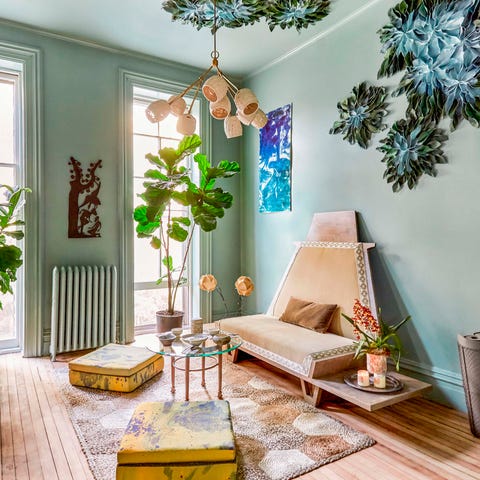 Courtesy of Maryline Damour
A wood-paneled space furnished with little more than a daybed and a yoga mat; a grotto complete with a rock garden; a stone bath with a massage table—these are all part of the latest trend in interior design: wellness rooms. Think of them as the antithesis of the home gym; these are spaces designed not with physical strength, but rather mental health in mind. Often intended to provide a break from technology, wellness rooms invite everything from sound therapy to meditation to massage—and designers are creating more and more of them.
"I probably put a yoga or wellness room in every home I design now," says Sarah Magness, who noticed a piqued interest in the concept at the Palm Beach Kips Bay Showhouse, where she converted a onetime office into an in-home retreat, complete with a daybed and Gracie mural of a serene Koi pond.
"Offering a space that is distant from your routine will create a sense of retreat," says designer Chad James, who has designed several different versions of wellness rooms for clients with different interests. "It's important to figure out why you feel in need of meditation, and design for that."
It's a concept Maryline Damour of Damour Drake showed off last year—at the second iteration of the Kingston Design Showhouse (which she founded) in October, the designer dedicated a back room, once a closet, to a yoga and meditation retreat complete with an in-house sauna. For Damour, the incorporation of nature was key to encouraging a detachment from the (often technology-driven!) pressures of daily life: The room was painted a moss green, floral artwork covered the walls, and even the custom daybed was made from textural wood that is the result of composting.
Designer Michelle Gerson adopted a similar attitude while working with Lichten Architects on a wellness room for a couple's Bridgehampton home. The clients wanted a room that would explicitly separate them from city life before they retreated to their weekend house. "I designed a massage/sauna/steam room to give them space to decompress from their fast-paced city life when they arrived."
But this concept is far from limited to the Hamptons-goers of the world, and while the idea of dedicating an entire space to yoga or meditation might seem frivolous, Magness argues that it's well worth it—and more feasible than you'd think. "You just have to think about space in a different way," she says. "Maybe you just make a room in your house where technology isn't allowed. I think just by meditating [Magness herself is a fan of the Calm Meditation station on Pandora], or listening to your thoughts for even 15 minutes a day, you really help yourself relax."
In an attempt to do just that, designer Rachel Cannon has been pushing the concept of the "quiet room," a space devoid of electronics—and, most importantly, other people, where you can be alone with little more than your thoughts and a few cherished objects (Cannon recommends inspiring books and meaningful heirlooms).
"Our homes are our sanctuaries more than ever before," Damour points out.
And it's easier than you might think to make them that way. "We shouldn't discount the power of beautiful things to help relieve stress," says Anthony Barzilay Freund, editorial director of 1stdibs and Introspective magazine, which has been publishing more and more wellness spaces of late. "Placing your favorite serveware or stemware on that dining room table, or propping up a beloved painting or decorative object near your yoga mat can definitely help your overall wellness," he says.
Indeed, whether their primary purpose is yoga, meditation, massage, or tech disconnect, the one thing these rooms all have in common is an attempt to tap into mental well-being—something designers, whose lives are spent creating sanctuaries (literal or not) for clients, fundamentally get.
"I think the world will be a better place if we slow down and reflect on mindfulness, on mental health as opposed to physical health," says Magness.
Follow House Beautiful on Instagram.