The Founder of Silk Laundry on How She Dresses for Work
6 min read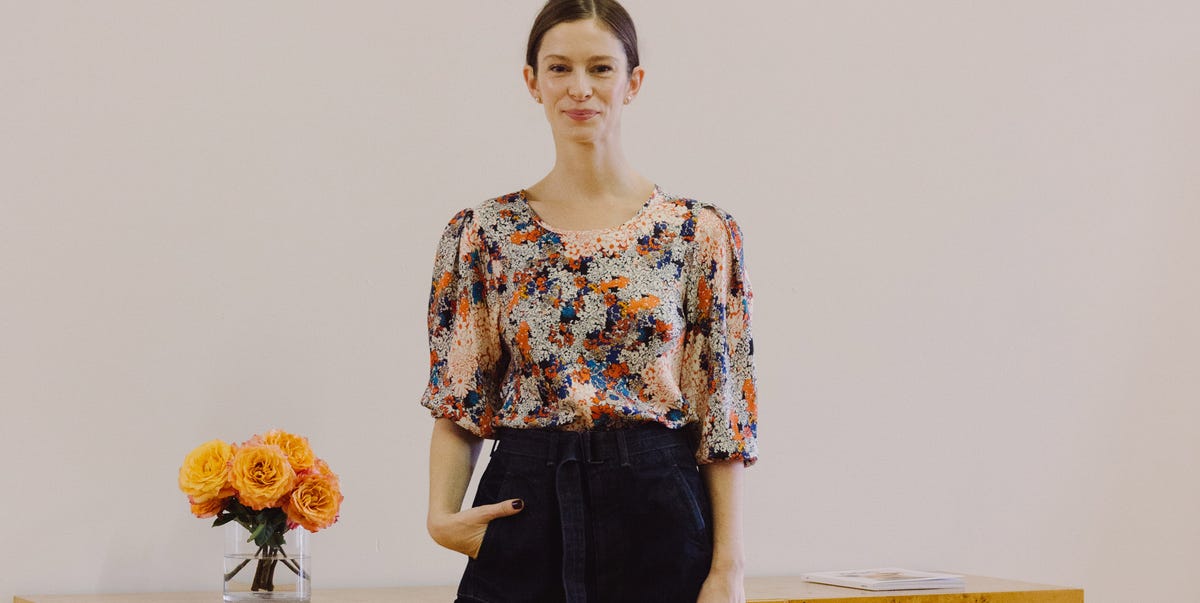 In a bi-weekly series, we're interviewing female executives, founders, CEOs—basically, boss ladies—on their "power suit" a.k.a. the outfit they wear every day for easy dressing to conquer whatever the job throws at them.
---
Katie Kolodinski, founder of clothing label Silk Laundry, didn't follow a traditional path to running and owning her own business. In her 20s, Kolodinski studied medicine, acupuncture, Chinese medicine, and psychology. She then took on a more creative education, learning about picture framing and industrial sewing and interior design. In a happy accident, Kolodinski, was asked if she'd like to purchase a little Australian lingerie label, one that she shopped frequently. The owner, whom Kolodinski had become close to, thought Kolodinski, with her creative abilities, and her husband, with his business acumen, were the right people for it.
Kolodinski accepted and for a year, focused on running a store. While attending all the different textile trade shows, she realized that she specifically loved working with silk. In 2015, Silk Laundry was born.
The brand launched with five skews: a '90s style slip dress, a cami, a t-shirt, a pair of shorts, and a button-up collared shirt. "It was a really tight, small wearable collection with pieces you were able to pair with everything," says Kolodinski. Though her offerings have since expanded, including silky blazer and shorts sets and an animal printed dress, her beautiful and minimalist aesthetic is still the through-line of the brand to do this day.
Currently, Kolodinski has three stores—two in Australia and one in Montreal, where she resides—and a direct-to-consumer website. She sources her silk from China, and the colors and prints are all exclusive to her, meaning each Silk Laundry piece you receive is truly one-of-a-kind. The creative director doesn't follow any particular trend or color forecasting for her collections, either.
These days, she's also working on exploring and blending silk with other materials to diversify her offerings, like creating silk linen or silk wool. "It's become really exciting and there are no limitations [with silk]," she says. "At the same time, we're looking to expand with more stores and other products. I don't see Silk Laundry slowing down anytime soon."
Read on to see how this entrepreneur gets ready for work and steal her style, too.
Her Morning Routine
"I wake up early—around 5:45 a.m.—because my 2-year-old doesn't sleep that much. We start with cuddles, as you do as a mom, and I try to post on [Silk Laundry's] Instagram account because Australia is just going to bed so the timing makes sense. After that, I get my two kids ready as quickly and efficiently as possible—make them breakfast and get their lunches together—and then we try to get out the door. [In between] I'll have coffee and finish whatever the kids had for breakfast.
I walk a lot, so I walk the kids to school. It takes about 45 minutes. We don't own a car, it's not something that I want right now and not necessarily something that I need in Montreal either, which is really cool. If it's summertime, I'll walk like an hour and a half to work and put on a podcast or an audio book as a nice way to start my day. I get into the office around 9:30 a.m."
Her Getting Dressed Strategy
"It depends on the weather and how I feel, but most of the time I decide what pants or top I'll wear first and go from there. Lots of times I'll have to wear a Silk Laundry sample for like three months to make sure the buttons are in the right place or the sleeves are long enough. If I don't like to wear something, it generally doesn't end up in the collection. Fortunately with my job, I'm able to wear what I want, to be as creative as I want, with my wardrobe. In regards to beauty, I'm pretty straightforward. It's cream and oil on my face. I use lipstick, blush, and mascara (if it's a good day and I had an extra two minutes)."
Her Work Uniform
"I wear a lot of shirting. I'm working on a cashmere collection of sweaters and knits. I'll wear a cool pair of leather pants or black denim, then a cashmere knit or silk top with that. In the summertime, I'm in dresses and a very light blazer or jacket. If I have a meeting, I'll put on a blazer that makes me feel good. I have a Saint Laurent blazer with amazing shoulders and [when I wear it] it makes me feel instantly professional, sophisticated, and powerful.
I wear sneakers a lot. If I have an easy day, I'll change my shoes and wear some sandals but at the moment, as I'm not driving, I am very sneaker-focused. They allow me to get my kids to school and for me to walk as quickly as possible to work. If it's casual, I like Golden Goose sneakers. They're so comfortable and made from the softest leather. I got a beautiful pair of the Nike collaboration—they're so good at what they do and it's so easy to wear.
When it comes to clothes that aren't Silk Laundry, I definitely have a few favorite go-to's. I love Lemaire, Proenza Schouler, and Loewe. Lemaire is incredible for denim; I search in their men's denim collection and [have been able to] find something that I really love. I love high-end brands for a few basics because I don't shop a lot. If I did, I wouldn't be able to purchase a lot of those [more luxurious pieces]. I'm very specific with my wardrobe, so I only need a few things and I'm okay."
The Three Words That Describe Her Power Outfit
"Clean, refined, and comfortable."
Her Motto
"My motto since I was 22 years old [comes from this one instance]: I had just moved to Sydney, or I was moving to Sydney from the Gold Coast, and a longtime shopper of mine at my store said to me, 'Katie, whatever you do, never say no to an invitation because you never know who you're going to meet along the way or what opportunities can come from it.' This changed my whole mindset and I always said yes, never no. I think that my life is definitely better and different because of that."
If you love Kolodinski's refined and minimalist style, get her effortless look with the following pieces.
---
For more stories like this, including celebrity news, beauty and fashion advice, savvy political commentary, and fascinating features, sign up for the Marie Claire newsletter.