Harry Heissmann Transforms a Silo Ridge Family Home
5 min read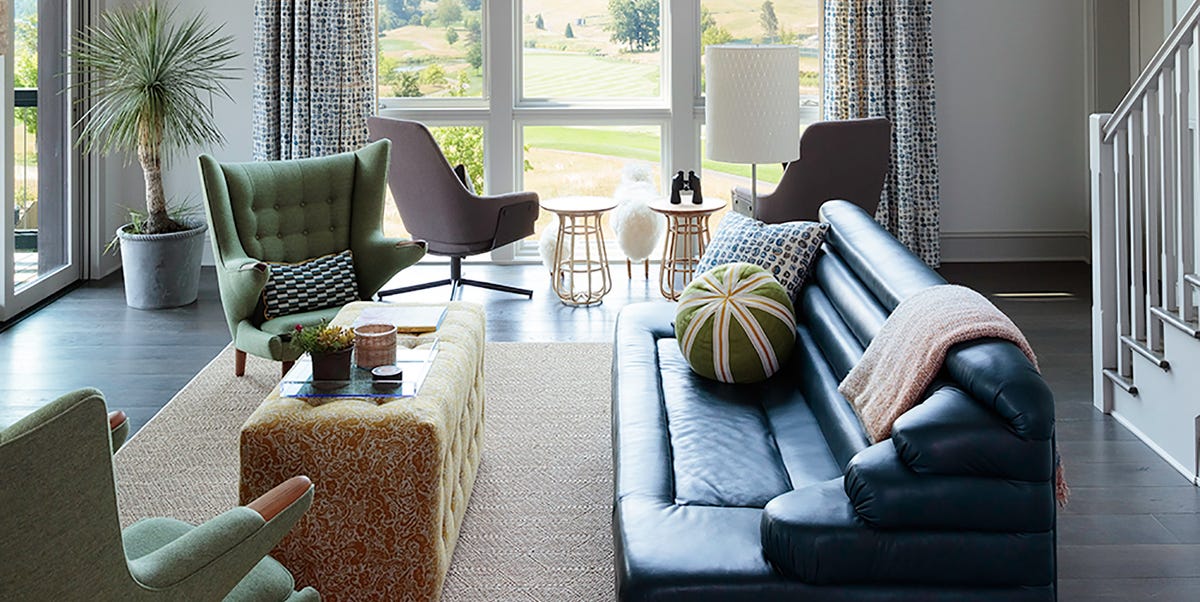 "What's new at the magic shop?"
That was highly acclaimed interior designer Albert Hadley's sometime greeting for Harry Heissmann when the designers worked together for nearly a decade, from 2000 through 2009. When Hadley, whose clients included ambassadors, first ladies, and the fashion elite, was in need of an out-of-the-box idea, he would stop by Heissmann's desk—aka "the magic shop," in a nod to Heissmann's boundless creativity and flair.
Today, more than a decade after he left Hadley's design firm and hung his own shingle at Harry Heissmann, Inc., Heissmann still has an illustration of a magic shop's sign hanging on the bulletin board in his office. "When I look at it, I just have to smile," he says.
Since opening his eponymous design firm, the German-born designer has become known for whimsical interiors admired by clients and fellow designers alike. With a talent for unusual flourishes and for toggling between the classic and the truly kooky—like taxidermy squirrels high on a custom chimney breast or pillows for a kids' room arranged to look like a campfire—Heissmann pursues a style he calls "client-centric."
Recently, Heissmann designed a country home with family-first features at Silo Ridge, a members-only community in New York's Hudson Valley. Here, he talks about—yes—the magic of this new project (don't miss the game of jacks on the walls!) and what's up next for him and his firm.
ELLE Decor: Tell us a little more about the origin of the magic shop.
Harry Heissmann: Mr. Hadley called it that. Every morning, we would have a meeting after racing each other to be the first at the office. We would quickly touch on what we were working on and compare notes.
Then one day, he came to my desk and said, "I'm coming to the magic shop to hear your ideas for a ceiling I need to find a paper for." I remember going into every showroom at the D&D Building to find the perfect paper. Once in a while, Mr. Hadley would walk by and say, "What's new at the magic shop?" By then, I had found an image of a magic shop's neon sign in a magazine, ripped it out, and put it at the top of the bulletin board behind my desk. I still have that same bulletin board at the office today, and it still has the magic shop sign at the top.
ED: What inspired this whimsical project at Silo Ridge?
HH: In one of the first meetings for the project, I learned that Silo Ridge was designed to eventually look like an Adirondacks camp. This was achieved with a lot of reclaimed wood on the exteriors. Then we went for a site visit, and I saw the 22-foot-high chimney breast in the double-height living room. I had this idea of making it look like someone found an old Adirondacks house, but they had taken the ceiling out and left only the original chimney breast. I wanted to create a special and sophisticated "camp" for my clients.
ED: Silo Ridge is a place meant for relaxation and family-centric activities. How did that come through in your designs?
HH: Most members, including my clients, are outside most of the day, playing golf, hiking, swimming. So when they return home, they want to be cozy—reading or playing with the grandchildren. Everyone gathers on the covered terrace to watch TV or sit by the fire. Downstairs are the living, dining, and kitchen areas, all with that stunning two-story expanse of glass and spectacular views of the golf course and the trees. There is a master suite, a guest suite, and a powder room. The second floor has a playroom and TV area and two more guest suites—one with log bunk beds. The grandchildren always pull straws to determine who gets the top bunks!
ED: There are elements of your whimsical style around the home—a game of jacks on the wall, pillows made to look like a campfire. Was your approach intentionally this playful?
HH: Yes—guests come in and look around, and all of a sudden you hear someone screaming, "Oh my God! There is a squirrel in here!" There is one antler chandelier, an antique from Germany with a terra-cotta owl. I replaced the original small lantern with a big milk-glass ball to look like a full moon. The jacks are an art installation, and there are other pieces with personality all over the house.
ED: What else can you tell us about the chimney breast? That pattern is so intricate—with pine cones, acorns, and so much more.
HH: I had seen a bark-covered antique commode in an auction catalog and really liked the orderly, neoclassical arrangement of the bark. In my head, I wanted to add to the element of an Adirondack camp. I consulted with my friends at Artgroove, and together we came up with the designs and how to incorporate the other natural materials. You know, we are only as good as the artisans and artists we use on our projects, and we could not have done it without them. I enjoy the process of collaboration immensely, and the result is something that every guest and visitor is wowed by—it's an instant conversation piece. I love to hear people say, "I've never seen anything like it!"
ED: So, what's brewing next in the magic shop?
HH: I'm working on a very exciting farm project, a Chelsea penthouse, an Upper East Side apartment, and I've just put the finishing touches on a Palm Beach project. I'm going to continue to teach at the New York School of Interior Design, and I'm working on developing a product as well—but I can't tell you about that right now. It's a secret!