Dining Room Swing Chair Trend
2 min read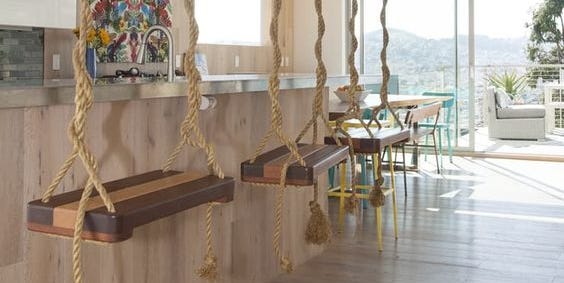 Pinterest | Futurist Architecture | NJ.com
Sitting can be boring, you know? And sometimes even uncomfortable—unless you're relaxing on a trampoline swing, which unfortunately isn't always the case. Should you be looking to spice up your kitchen island and/or dining area with more than just new recipes from your favorite fall cookbooks, here's an idea: Why not swap out your aesthetically 'blah' chairs or barstools with, why yes, a swing? They're eye-catching, fun, and definitely a conversation starter. Plus, since they're dangling from the ceiling, it'll save you the hassle of having to shuffle all the chairs around when you're trying to vacuum. Win!
Sure, everyone's interior design styles are different, but the beauty of DIY is that you can give it your own flair—and you'd be surprised by how many different shapes, sizes, and styles swings come in or can be made into. And believe it or not, hanging swing chairs from the ceiling of your home is relatively easy and doesn't take up too much time. Find the ceiling joist, properly install the eye hook(s), then hang the swing (of course, there's a bit more to it, and if you're looking for the full tutorial, here).
Follow House Beautiful on Instagram.