Design Companies Helping to Combat Coronavirus
3 min read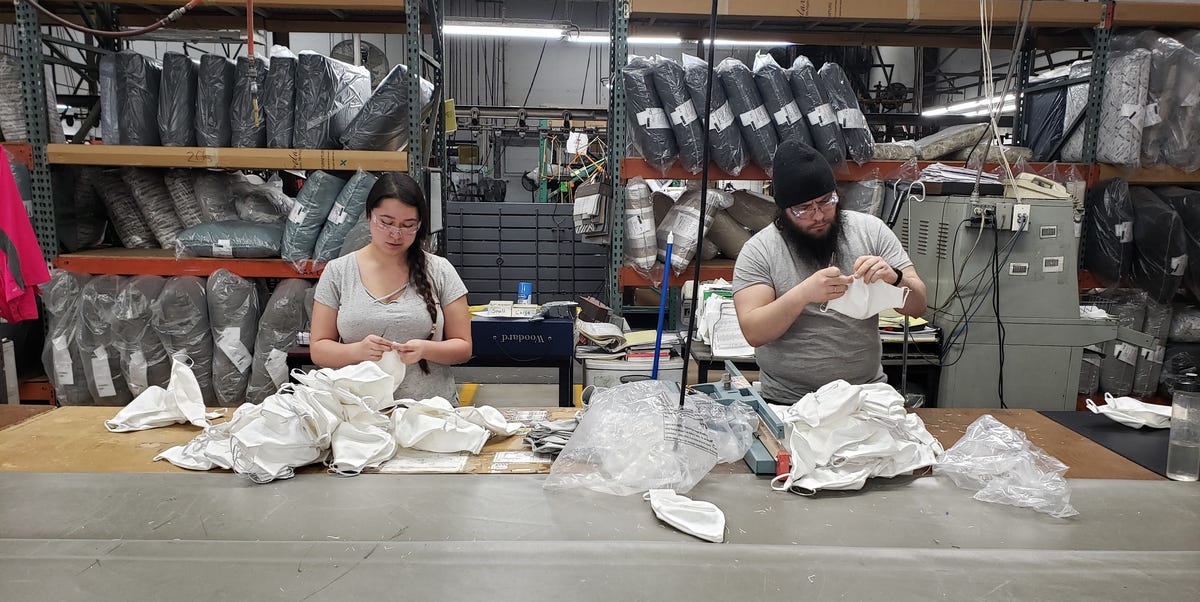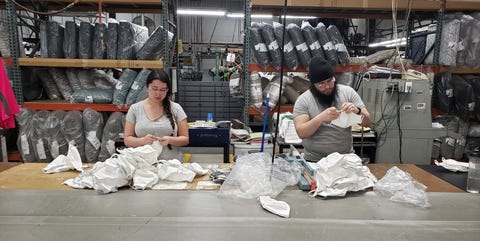 Courtesy of Jean Liu/Woodard
Dallas Designer Jean Liu has converted the plant for her Michigan-based outdoor furniture company Woodard into a nonmedical-grade mask manufacturing operation. "We have started production, and we think can make about 1,000 masks per day," says Liu, who also runs a Dallas-based interior design business.
The idea came to Liu late last week when she discovered her husband's cousin, an ob-gyn by training based at Massachusetts General Hospital, was asked to begin working in the emergency room. "She told us that she was wearing the same mask every day and disinfecting it with alcohol. She even said her boss asked if she knew how to sew" because the need for additional masks is so dire, says Liu.
The designer soon discovered a mask template that has been published by Deaconess Health System, and it sparked an idea. "I texted our plant manager in Michigan and asked if he thought he could make something like this. We have these automated sewing machines, and I just figured we could move a little faster," says Liu.
By the next morning, Louie Zelenka, Woodard's plant manager, had made a prototype and begun to source materials (elastic and cotton with a tight-knit weave) for the emergency masks. "Within a matter of hours, we were up and running, thanks to Louie and our sewing and cutting teams, led by head of upholstery, Howard Dennis," says Liu.
To be sure, Liu and her team are making nonmedical-grade masks for medical professionals, first responders, and patients at this time. "We don't have access to medical-grade base material right now," says Liu. "We designed this to be an alternative to nothing, or better than a bandana, and as an additional shield over an N95 mask that doctors and first responders are now being ask to use over and over again."
Once Liu understood the capabilities of her own firm, she called on others in the design industry to help. Textile companies Kravet and F. Schumacher "have already sent us 1,000 yards of fabric each and said they will donate whatever we need," says Liu. "Then I started calling the furniture companies in North Carolina, offering to share our CAD template, and everyone I called said 'yes.' Finding the silver lining in all of this is restoring my faith in humanity."
Those companies include: Century, C.R. Laine, Huntington House, Massoud, Michael Thomas Furniture, North Cape, Shenandoah Furniture, Sherrill Furniture, Vanguard Furniture, and Wesley Hall. Valdese Weavers, Michael's, and Community Manufacturing have also pledged to help.
Liu and Woodard have a spreadsheet going to manage all of the requests they have received from hospitals and healthcare organizations around the country. "Once the furniture companies are up and running, and they should be within a few hours, we should be able to fulfill this clear need," says Liu.
Liu says Woodard will continue making masks as long as there is a need and as long as the company can secure the materials required to make them. Liu is urging those who have a need for these masks, or those with large sewing capabilities and/or elastic available for donation, to contact Woodard via the email addresses listed on the company homepage.