Best Shop Design Ideas (Happy Home Paradise)
4 min read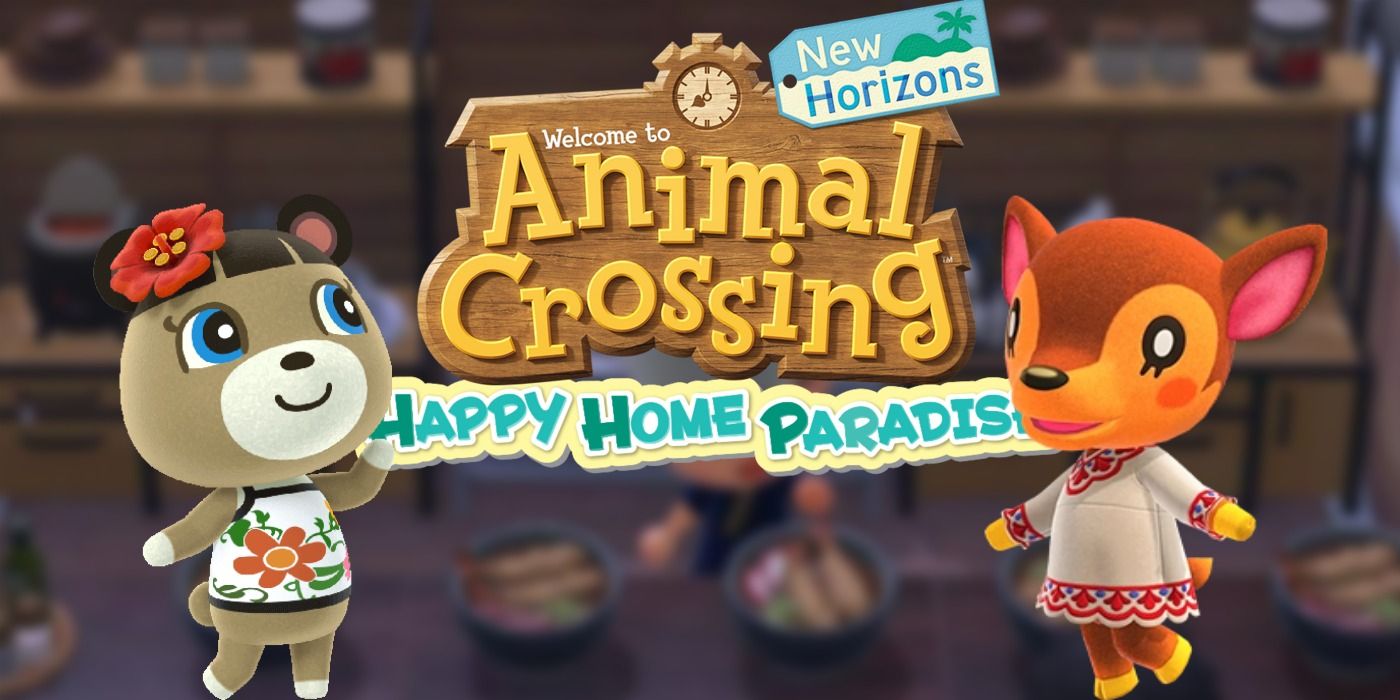 With an expansive inventory in the Animal Crossing: Happy Home Paradise DLC, players can create shop design ideas with furniture, wallpaper, and more.
Whether on the main island or working away at the Animal Crossing: Happy Home Paradise island, players have many decorative options for shop design ideas. As part of the 2.0 update and paid DLC that came out November 5th, players can choose from tons of furniture and color schemes to decorate the interior and exterior of buildings. After working for Lottie designing vacation homes for her clients, players will unlock these decorations and may even use them to customize on their islands.
Happy Home Paradise has an extensive inventory of furniture, flora, wall placements, and hanging ceiling items included in the DLC. It's a limitless inventory that doesn't require farming resources or using items collected throughout the game. With so many customizations available, players may lose focus or get carried away with confounding shop design ideas. A great approach to ensure construction plans come out just right is to follow a color scheme, a theme, or borrow a familiar style from real life.
Related:  Animal Crossing: How To Use Soundscapes In Happy Home Paradise
After designing many dream stays for villager friends on the Happy Home Paradise archipelago islands, players can head back to the main and use the features unlocked. This content is available as part of the free Animal Crossing 2.0 update together with the paid Happy Home Paradise DLC. The gameplay is fairly similar to the previous Happy Home Designer sandbox version back in 2015 for Nintendo 2DS and 3DS. The more recent update expands on the content by offering more items, color customizations, and even props to decorate outside the buildings.
Themes for Shop Design Ideas in Animal Crossing: New Horizons (Happy Home Paradise)
There are some pretty creative theme ideas to attempt with all the new inventory added to Animal Crossing. A player managed to recreate a Hot Topic using black color schemes for the furniture, minimal lighting features, and hanging clothing and objects about the walls (just like in the store!). Think about different ways to use the content available and try designing a replica of your favorite places to shop in real life!
The fall, winter, spring, and summer seasons are great themes for shop design ideas in Animal Crossing: New Horizons. Consider using matching seasonal colors when choosing furniture and accent wall patterns. A coffee shop in the fall may have all brown, yellow, and green decor with leafy and woody content. A book shop can have warm cozy furniture and windows displaying snowfall to suggest the winter season. Use wall partitions and pillars in the interior to separate space and test customization ideas even further.
Players may use sections for quiet reading spaces in a book shop or create a separate counter area for making payments at a register. Also, consider using specific surfaces to suit the needs of items on display. There's a tall bookcase-style shelf that would be perfect for displaying plushies in a brightly colored toy shop, or glass displays that may be used for organizing flowers in a flower shop. Perhaps using all the rustic-themed items in one design to create a particular look. Customize the colors of the shelves and displays to create a single matching color scheme.
For some Animal Crossing players, the best shop design ideas might be chaotic, multi-colored, with random cool items placed about. The Happy Home Paradise DLC content is very broad and players can design according to specific looks or freestyle the entire thing. Or possibly create culturally inspired shop designs by using items like imperial wallpaper, dividers, and zen furniture to create an Asian-style theme. The exterior of the buildings may also be customized with greenery or items like telescopes and can match the interior to carry out the theme. Another great way to find design ideas would be to check out what friends are putting together on their islands.
Next: Animal Crossing: How To Unlock Every Facility In Happy Home Paradise DLC
Animal Crossing: New Horizons Happy Home Paradise is available on Nintendo.
GTA Trilogy Players Upset That Rockstar is Denying Refunds
About The Author