Beautiful Jewelry Boutiques – Pretty Jewelry Salon Interiors
5 min read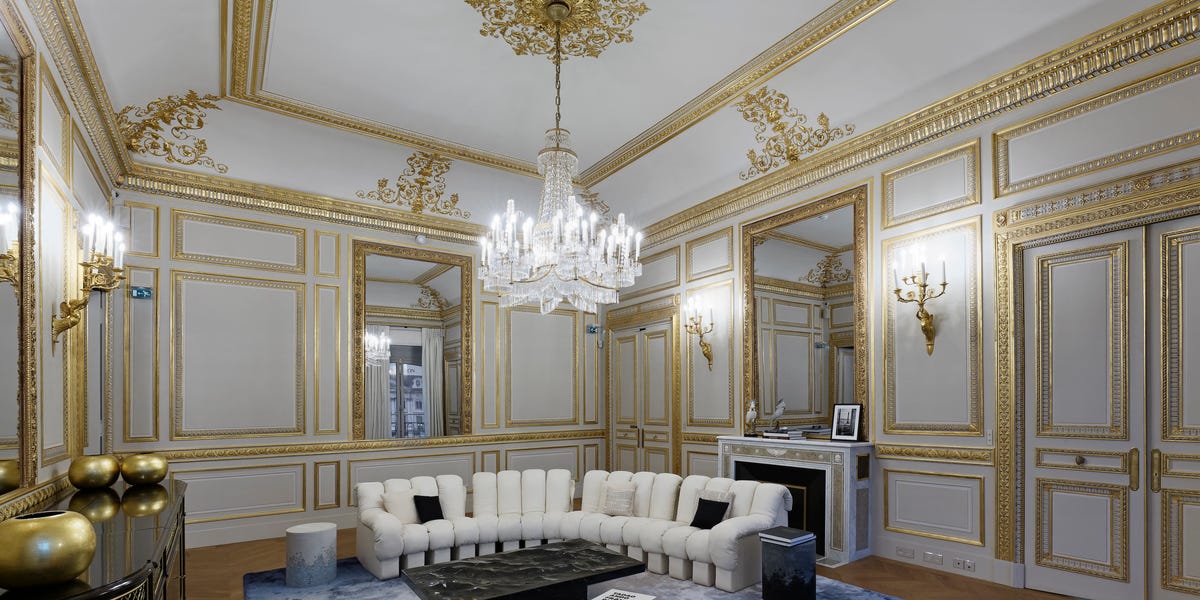 Jewelry tells a story—about the person who wears it, but also about the heritage of its maker. Just as a piece of jewelry's history is inherently nestled between the layers of metal and gemstone, salon interiors offer jewelry houses an opportunity to express their identities with immersive environments. As iconic jewelry brands expand their existing salons or renovate old ones, they're relying more and more on interior design to help highlight the inspiration and muses behind their pieces, as well as their individual histories. Here are four jewelry houses that are returning to their own heritages to re-facet the interiors that house their unique creations.
Graff
Designed by architect Peter Marino, the new Graff boutique on Paris's Rue Saint-Honoré is a modern work of art, decked in tastefully opulent pastel shades, vitrines edged in gold, crystal chandeliers designed by Thaddeus Wolfe, and velvet curtains patterned with lilies inspired by Monet.
The main salon has been coined the "Galerie de Glaces" in reference to Louis XIV's marvelous Hall of Mirrors, a gathering place meant to reflect the King's power by using the most expensive materials of its time. Today, at Graff, precious stones glitter off of reflective surfaces, exciting the senses for what lies beneath the vitrines.
The remainder of the 3,7000-square-foot salon is broken into a domed engagement room, high jewelry showcase, and the exclusive Muse de Curiosities. This tiny VIP treasury is covered floor-to-ceiling with feathered plumage, carefully placed by the hands of the best Parisian couturiers. Hidden doors open to the most exotic and unique pieces of Laurence Graff's private collection, including the 603-carat Lesotho Promise diamond.
From the Threads collection, this stunning necklace is a testament to the entanglements of life and celebrates the shared memories connecting us to the ones we love.
David Yurman
The new David Yurman flagship store on New York's Fifth Avenue reflects the brand's sense of pride in American-made luxury. Beginning as sculptor and painter, David and Sybli Yurman's initial intent as jewelry designers was to create beautiful, wearable pieces. Now known for its sculptural amulets and refined craftsmanship, the Yurman brand turned to its roots for DY57.
The design was a collaboration between Chief Creative Director Evan Yurman, David's son, and architect Gabellini Sheppard, who is well versed in designing luxury retail spaces. The duo looked to the history of American craftsmanship in interior design, taking inspiration from likes of Frank Lloyd Wright, Eames, and Florence Knoll.
The salon construction is sleek, featuring a facade framed in rose gold, cozy dark wood ceilings in the interior, and hand-selected materials and finishes throughout. Spread over three mezzanines, the layout is meant to feel like one's home, with each space flowing into the next with a sense of comfort.
"This store is an opportunity to tell our brand story and create a unique customer experience. It's an open, optimistic, airy, inviting place—just like our business, just like our jewelry, just like our family," says Evan Yurman. "I look at this store as an extension of a piece of jewelry that I might create. Something both familiar and modern."
Just as chic with denim and ballet flats as it is during an evening out, this timeless chain bracelet in yellow gold is a collection staple.
Boucheron
Boucheron, the French jewelry atelier founded in the 19th century, recently renovated its Place Vendôme flagship store for its 160th anniversary. The building, originally named Hôtel de Nocé, was constructed in 1717 and was called home by some of the highest of French aristocracy, including Napoleon's infamous mistress, the Countess of Castiglione.
Frédéric Boucheron was one of the first jewelers to establish himself at Place Vendôme in 1858. Other retailers soon followed him to neighboring storefronts, creating one of the most luxurious shopping districts in the world. The building not only showcases pieces that are for sale, but it also serves as a jewelry workshop, design studio, and client apartment.
Pierre-Yves Rochon, renowned interior designer for hotels around the globe, led a renovation back to the brand's roots. Architectural elements like gilt moldings were preserved and incorporated with more modern furnishings and unique pieces of art.
The space is a contemporary take on the Parisienne salon with the goal of making clients feel at home. And the jewelry-selecting experience is meant to take an afternoon, an occasion for drinks and browsing. Top-dollar clients even have the opportunity to stay overnight.
Dreamy diamond feathers paired with sparkling morganite stones make these earrings a lovely set to pair with a spring floral dress.
Belperron
Trained as a jeweler during the highly decorative Art Deco movement, Suzanne Belperron's pieces are cherished for their use of unconventional materials and their ornate, nature-inspired design.
Known for her celebrity clientele (including the Duchess of Windsor and Lauren Bacall), the Parisian designer was the first to pioneer setting precious stones in semiprecious materials, and eschewed traditional French jewelry designs by finding inspiration in exotic lands like Egypt, India, and the Far East. Her legacy was largely forgotten after her death in the 1980s but experienced a resurgence when Ward Landrigan, the former head of Sotheby's U.S. Jewelry department, decided to reinstate the brand.
While Belperron is now located in New York, its pieces are constructed in Parisian workshops with direct lineage to Belperron's original craftsmen. Established in 2015, the flagship store is on Fifth Avenue and feels more like a 1930s Parisienne apartment than a jewelry salon. Architect Daniel Romualdez's design of the space takes direct inspiration from a B. Herz and Belperron jewelry box. Its blue walls are reminiscent of the Duchess of Windsor's favorite chalcedony bead necklace, while a Matisse print of Dorothy Paley wearing a Belperron gold-and-emerald cuff sits above the black marble fireplace.
The wave motif appears again and again in Suzanne Belperron's work. Here, a stack of three in this yellow gold cuff set with diamonds makes a modern statement piece.