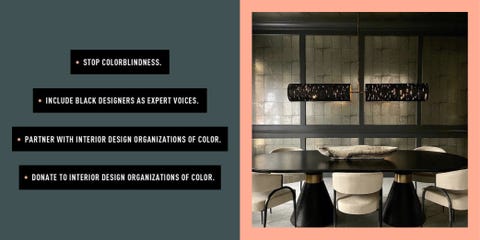 Black Interior Designers Network
Tables—dining tables, bedside tables, end tables—take up a lot of every interior designer's time. But it is only now that industry concern is being paid most to Black designers being denied a seat at the collective industry table.
To be sure, Black interiors designers have been talking for years about the challenges they've faced gaining access and getting exposure and the interior design industry has been called out before for its lack of diversity and, specifically, its exclusion of Black talent. So in an industry that celebrates trends, how do we make sure there that what's happening now is translated into meaningful change?
The Black Interior Designers Network, a non-profit organization with a mission to highlight Black talent in an effort to land business development opportunities, has posted to its Instagram account a list of guidelines to advise companies on how they can become an
…
Read More